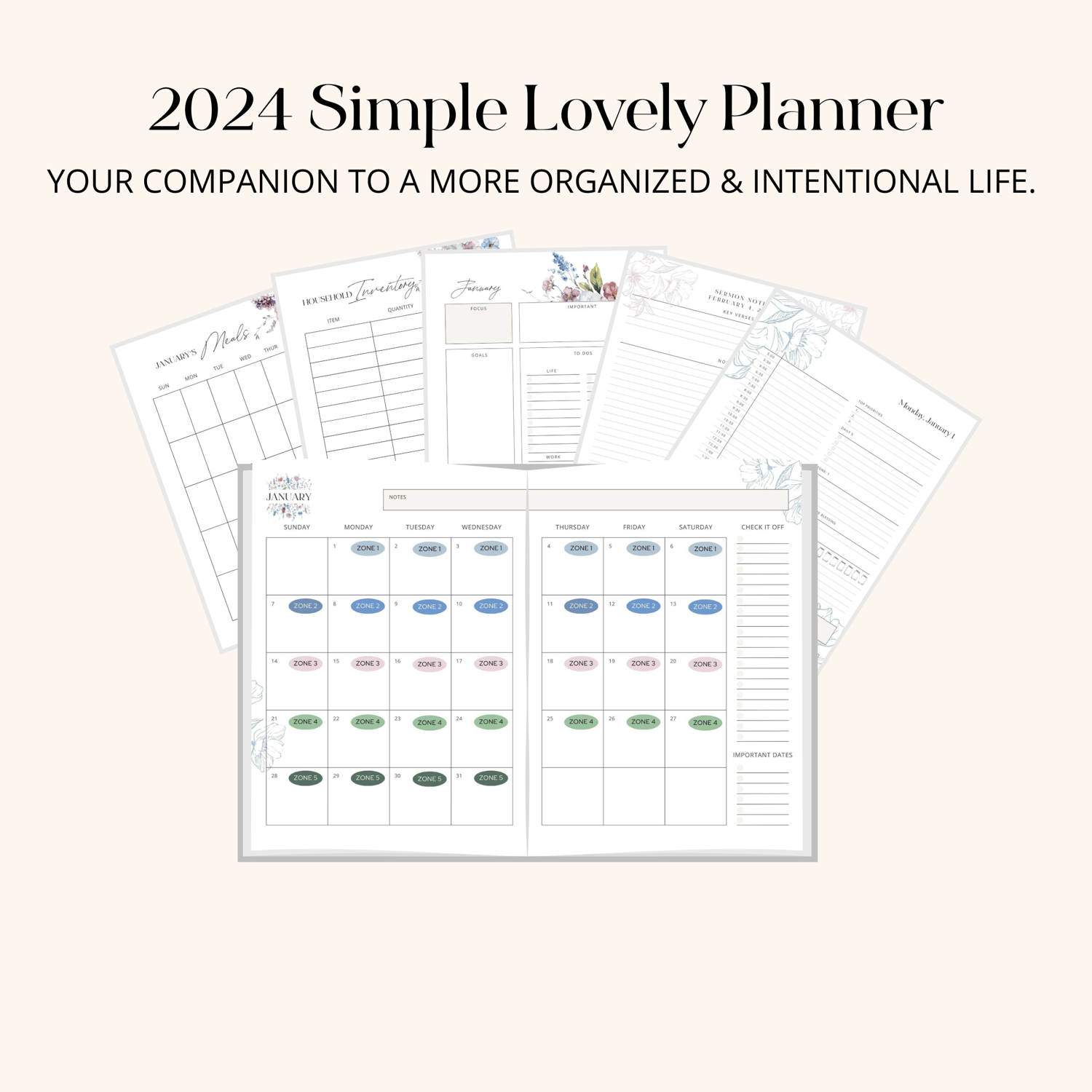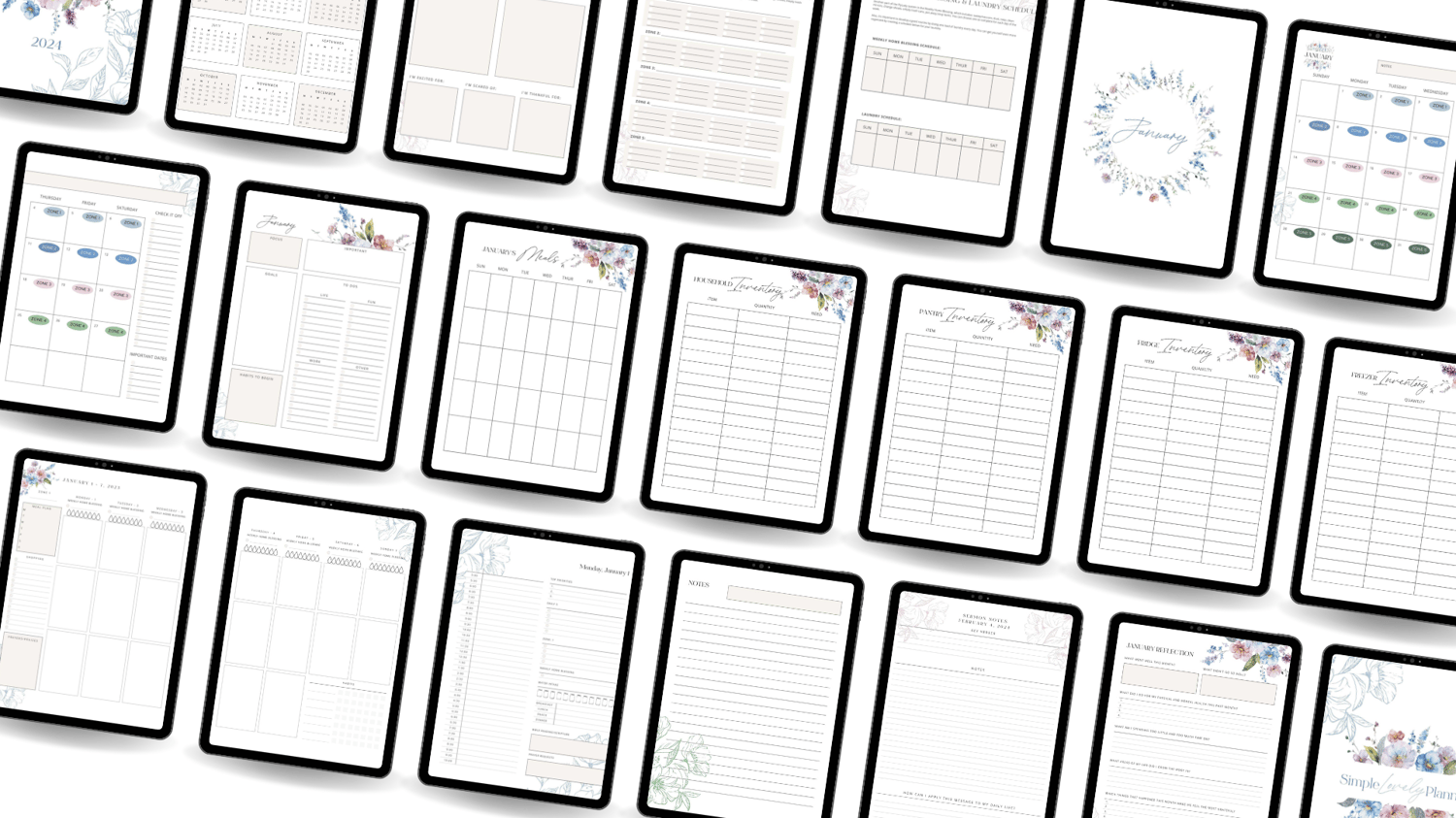 2024 Simple Lovely Planner
On Sale
In the whirlwind of juggling work, family, and personal growth, finding harmony can feel like a lofty goal. Enter the Simple Lovely Planner, meticulously designed for the Christian working mom seeking more than just a schedule. It's a guiding light, crafted with care to align your days with your deepest values.
What's Inside:
🗓️ Daily, Weekly, and Monthly Calendars: Thoughtfully designed sections for orchestrating every facet of life, from appointments and work commitments to cherished family moments and spiritual practices.
🏡 Home Organization Templates: Embrace the art of homemaking with checklists that transform cleaning, organizing, and nurturing your home into intentional rituals.
🥘 Meal Planning and Inventory Lists: Streamline meal preparation with dedicated spaces for planning family feasts and creating shopping lists, ensuring your kitchen is the heart of warmth and nourishment.
✅ To-Do Lists and Tasks: Stay on top of your priorities with a well-organized area for jotting down tasks, to-do lists, and daily priorities, both for work and home.
🎯 Goal Setting Pages: Elevate your aspirations with dedicated sections for setting personal, professional, and family goals, turning dreams into tangible pathways.
🔄 Habit Tracking: Cultivate intentional habits that resonate with your well-being, productivity, and the slow living philosophy, ensuring each day is a step towards your best self.
🔍 Monthly Review and Reflection: Wrap up each month with grace, reflecting on your triumphs, challenges, and setting intentions that set the stage for what's to come.
📖 Sermon Notes: Capture the wisdom and inspiration from each Sunday's sermon, infusing your daily life with the transformative power of faith.
Why You'll Love It:
The Simple Lovely Planner isn't just a planner; it's your companion in intentional living. It honors your Christian values and empowers you to weave them into the very fabric of your days. With each page, it whispers, "You are capable of creating a life that reflects your deepest beliefs." It's an invitation to infuse purpose into every moment, turning the ordinary into the extraordinary. Embrace this planner and let it be the cornerstone of your journey toward a life that's both beautifully simple and profoundly meaningful. 🌟
PLUS BONUSES!!!!
BONUS #1: Blossoming Mornings, Tranquil Evenings: Cultivating Your Perfect Routines ($10 value)
Are your mornings a chaotic rush and your evenings a scramble to get everything done? Do you yearn for a more intentional and peaceful start to your day, as well as a calm and restful close? Craft your perfect morning and evening routines that promote the perfect blend of productivity and relaxation.
BONUS #2: Gratitude Journal
In the rush of daily life, it's easy to overlook the simple yet profound blessings that surround us. The Gratitude Journal, included as a special bonus with the Simple Lovely Planner, invites you to pause, reflect, and embrace the beauty in everyday moments with daily prompts and weekly reflections.
BONUS #3: Exclusive Planner Set-Up Session: Craft Your Path to a Beautiful 2024
Embark on a transformative journey into the heart of intentional living with an exclusive invitation to a Planner Set-Up Session. This special bonus extends a warm welcome from me, your mentor, as we prepare to step into the year 2024 with purpose and clarity.